Puppies
Our breeding aims that a golden retriever from kennel Shadowfax must be a healthy, happy and stable family dog, have a friendly spirit, good mentality, good to receive learning, enjoying working- hunting – agility – play – trace … Have a nice appearance.
The puppies are born and residing inside our house, because we put much emphasis on shaping the most of them, the challenges arising.
The puppies are during their stay with us has been marked with different sounds, daily contact with children and other dogs, been on tour of experience on our property and puppies are being tested of behavior.
  
Together with our knowledge of parent animals, their characteristics and behavior, the daily observations of the puppies, we ensure that the most appropriate puppy come to the right family.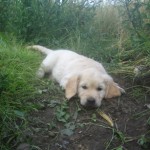 Puppies are sold with contract of sale, DKK breedingbook, chipped, health certificate issued by veterinarian and a detailed puppy folder with advice and guidance to the new owners.