Hvalpe
Vort opdræt sigter mod, at en golden retriever fra kennel Shadowfax skal være en sund, glad og stabil familiehund, have et venligt sind, god psyke, god til at modtage indlæring, have arbejdsglæde – jagt – agility – leg – spor m.m. Have et dejligt udseende.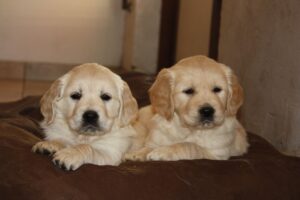 Hvalpene bliver født og opholder sig inde i vores hus, da vi lægger meget vægt på at præge dem bedst muligt, til de udfordringer der følger.
Hvalpene er under deres ophold hos os blevet præget med forskellige lyde, daglig kontakt med børn og andre hunde, været på oplevelsestur på vores ejendom samt blevet hvalpetestet.

Sammen med vort kendskab til forældredyrene, deres egenskaber og væremåde, de daglige iagttagelser af hvalpene, sikrer vi, at den bedst egnede hvalp kommer til den rette familie.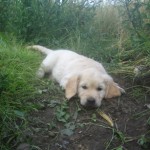 Hvalpene sælges med købsaftale, DKK stambog, chipmærkede, sundhedsattest fra dyrlægen og en udførlig hvalpemappe med råd og vejledning til den første tid.
Our breeding aims that a golden retriever from kennel Shadowfax must be a healthy, happy and stable family dog, have a friendly spirit, good mentality, good to receive learning, enjoying working- hunting – agility – play – trace … Have a nice appearance.
The puppies are born and residing inside our house, because we put much emphasis on shaping the most of them, the challenges arising.
The puppies are during their stay with us has been marked with different sounds, daily contact with children and other dogs, been on tour of experience on our property and puppies are being tested of behavior.

Together with our knowledge of parent animals, their characteristics and behavior, the daily observations of the puppies, we ensure that the most appropriate puppy come to the right family.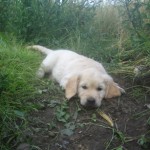 Puppies are sold with contract of sale, DKK breedingbook, chipped, health certificate issued by veterinarian and a detailed puppy folder with advice and guidance to the new owners.